ClassiPress is a premium WordPress theme turns your WordPress into a classifieds ads web site and I recently bought this theme and I thought it would be a nice idea to share my experience with you guys.
First of all, the theme provides everything you need to make a directory website of your own. The reason I purchase the ClassiPress Classifieds Theme is that I plan to create a niche classifieds website. At first, I look for free an option such as free classifieds theme or classifieds plugin but then I see that those free plugins and themes are really sucks. Literally, SUCKS! So, I finally decide to purchase the AppThemes' ClassiPress. It has a very nice design and comes with lots functionalities.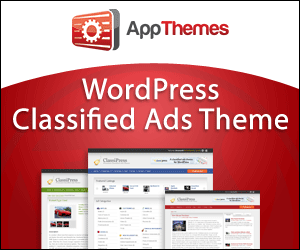 A few important functionaties of ClassiPress are that it uses latest WordPress 3.0 features and thanks to that your ad listings are totally kept different from your blog posts. Also, it automatically resizes your images that is why you do not have to worry about the uploaded images size or so. Additionally and my favorite feature is that ClassiPress has support of multi-languages. If your classifieds website are not going to be English, you can easily change your ClassiPress in your language with the help of .po and .mo files. Here you can find more information about how to change your ClassiPress' language. Last of all, it has very advanced coupon module so that you can easily setup your own campaigns and keep track of them within minutes.
Long word short, I purchased this premium theme because I do not want to waste time with the free options and the ClassiPress is very advanced premium theme and I can easily say that ClassiPress could be the best WordPress classifieds theme out there. So, if you are planning to make a classifieds website go head and grab your copy of AppThemes's ClassiPress Theme. It is priced at only $99. Also you may have a look at the demo of ClassiPress.
This post is written by Mehmet Akyol. He really likes blogging and is blogging more than two years. He mostly write about technology and he has two blogs: Tablet PC Freaks and Squash Racket Reviews.